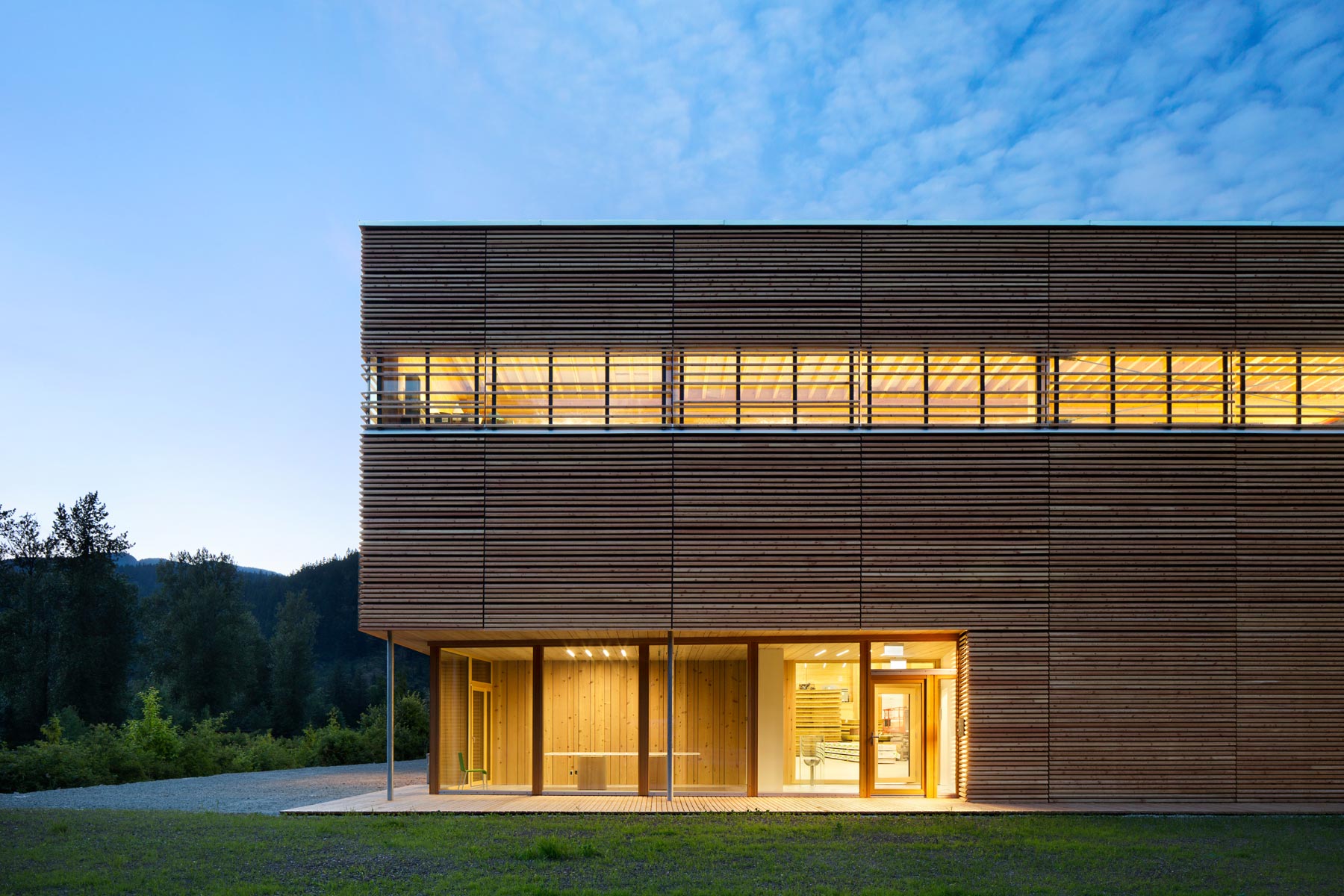 BC Passive House
The BC Passive House factory sits in the inspiring mountainous backdrop in the Pemberton Industrial Park, this 16,200 SF shop facility was entirely pre-fabricated and erected by the owner, BC Passive House. It includes offices, a showroom, and a high-bay workshop, all contained within a simple, contemporary all-wood rectangular volume. The minimal box-like building demonstrates the advantage of locally sourced, prefabricated wood construction.
The office portion, which houses the drafting and administration staff, was designed and built to the stringent Passivhaus Standard requirements using the company's state-of-the-art prefabricated panel product.
The building's clean, light-filled minimalist design is modest, yet the exposed wood gives a sense of warmth. As much a demonstration project as a working facility, the building uses a number of different wood products including a glue-laminated timber (Glulam) post-and-beam structure, cross-laminated timber (CLT) walls and prefab roof panels.
Douglas fir post-and-beam frames, at 20ft intervals, span from the sides to a central line of columns, forming the main structure, while continuous ledgers on either side of the beams support the prefabricated wood-frame roof panels. 40ft cross-laminated timber panels are laid horizontally in a staggered pattern for the walls and topped with continuous clerestory windows to provide daylight and views in all directions.
The exterior cladding uses prefabricated panels of horizontal Douglas fir, and dense, durable larch boards. Demonstrative of wood's prefab advantage, the entire superstructure was erected in just eight days.
Location

Pemberton, BC

Completion Date

2014

Area

16,200 SF

Typology

Industrial

Architect

Hemsworth Architecture

Awards

2016 Governor General's Medal in Architecture

2015 AIBC Innovation Award

2015 BC Wood Design Award

2014 North American Wood Design Award

2015 Architizer's Project of the Day (15.03.21)

Photography Credit

Ema Peter