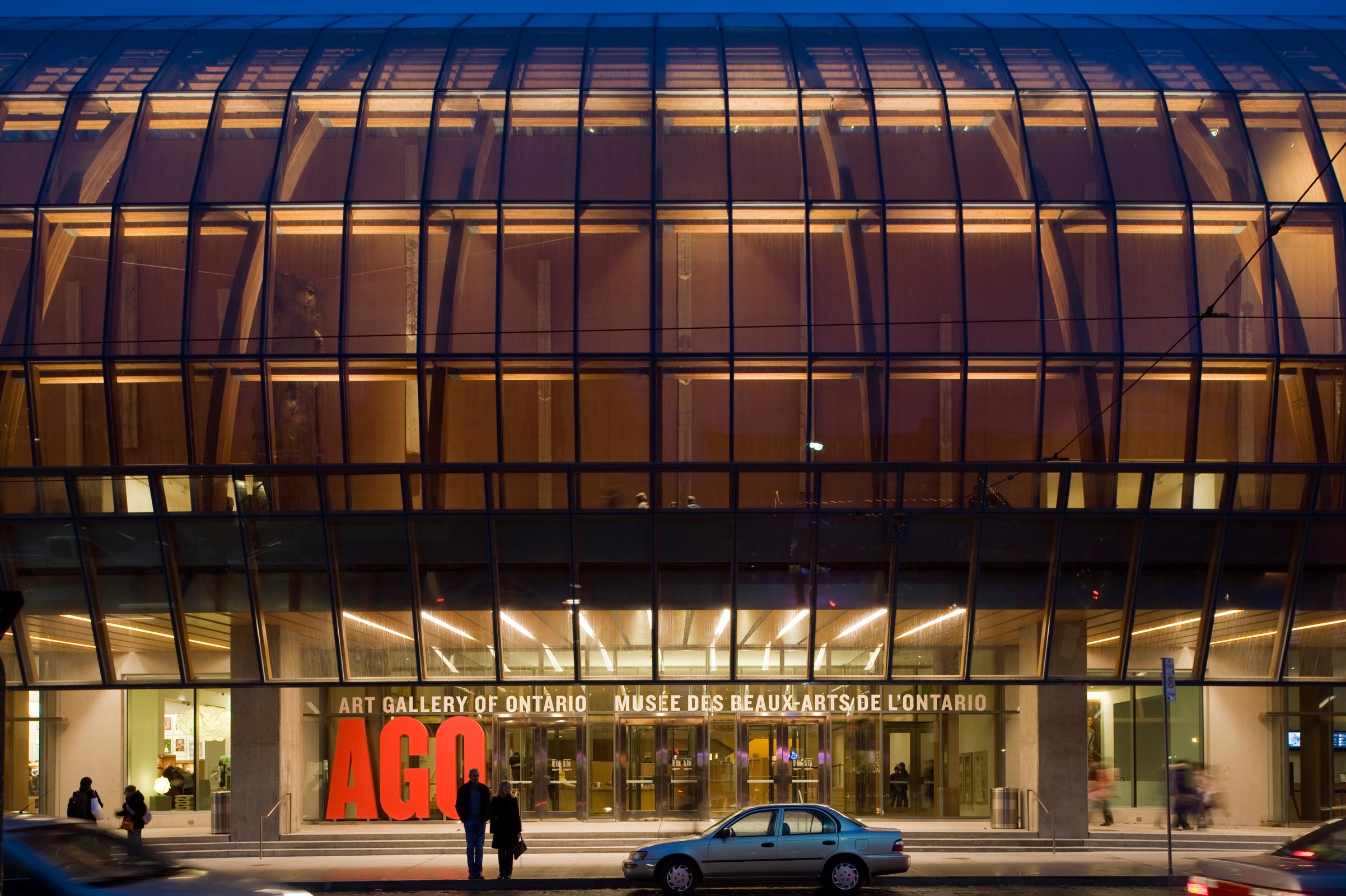 Art Gallery of Ontario – Galleria Italia Façade
The Dundas street Façade of the Art Gallery of Ontario, designed together with Gehry Partners, has become an iconic part of Toronto's cultural identity, the face of a large transformation of one of Canada's most significant art galleries between 2004 and 2008.
Attune with Gehry's signature works, the façade's form is complex and doubly curved. This architectural expression became an integral part of the structural solution, entirely exposed to view from both within and outside the gallery. What makes this structure remarkable is that the complexity was achieved with timber as the main material, when the standard answer would be steel.
An array of diagonal 60ft primary Douglas-fir glue laminated timber (glulam) arches sweep across the expansive length of the building, each bowing out with a unique curvature to support a secondary doubly curved glulam grid that in turn supports the glazing panels. Innovation was found in the use of cutting-edge 5-axis Computer Numerical Control (CNC) manufacturing techniques, which at the time had not been realized on timber structures of this scale. An early decision was made to standardize the geometry of the hidden steel components and use CNC equipment to shape the timber. This allowed us to achieve geometrically variable connections with an elegant and cost-effective detail together with the precision required for a glass façade.
Visitors can be seen resting in the warmth of the atrium, pondering the extravagant timber structure above. The smell and amber glow of the wood creates an inviting space, while showcasing a sustainable vision for modern architecture.
Location

Toronto, ON, CAN

First Nation Location Name

Tkaronto

Completion Date

2008

Area (SF)

N/A

Typology

Arts

Architect

Gehry Partners